Peter Caspari
Principal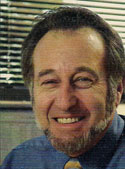 "At first I wanted to be a veterinarian, but in South Africa you had to speak Afrikaans. I then decided to be an actuary, but I got bored. Pure math wasn't my forté. Accounting came easily to me."




Office 602-870-1619
Email Loading Email...


Member: AICPA, AICPA Technology Division, ASBA, ASCPA
Education: University of Cape Town, South Africa — with Honors
Peter Caspari will always have a special place in his heart for accounting: He met his wife Isabelle after writing his college accounting exam in 1969.
Peter and Isabelle wanted to build their future in the U.S. They came over to tour the Sun Belt, and had a hard time deciding between Phoenix and Atlanta. The desert won out, and Peter got a job as a controller for a Phoenix-based software company when they made the move in 1987.
Peter enjoys keeping up with all the latest information to help his clients succeed. He is licensed to practice in both Arizona and Louisiana and has kept his license alive in South Africa.
Peter isn't just an accountant. As a qualified mediator, he often acts as a facilitator. When a client is buying or selling a business, for example, Peter will act as a liaison between the client, the other side, and the financial institutions.
In his role at Linsalata & Co., Peter does plenty of consulting and business evaluations. Off hours, Peter spends his time hiking, travelling mainly to Europe, and reading thrillers. He and Isabelle, a speech pathologist, have two grown sons.